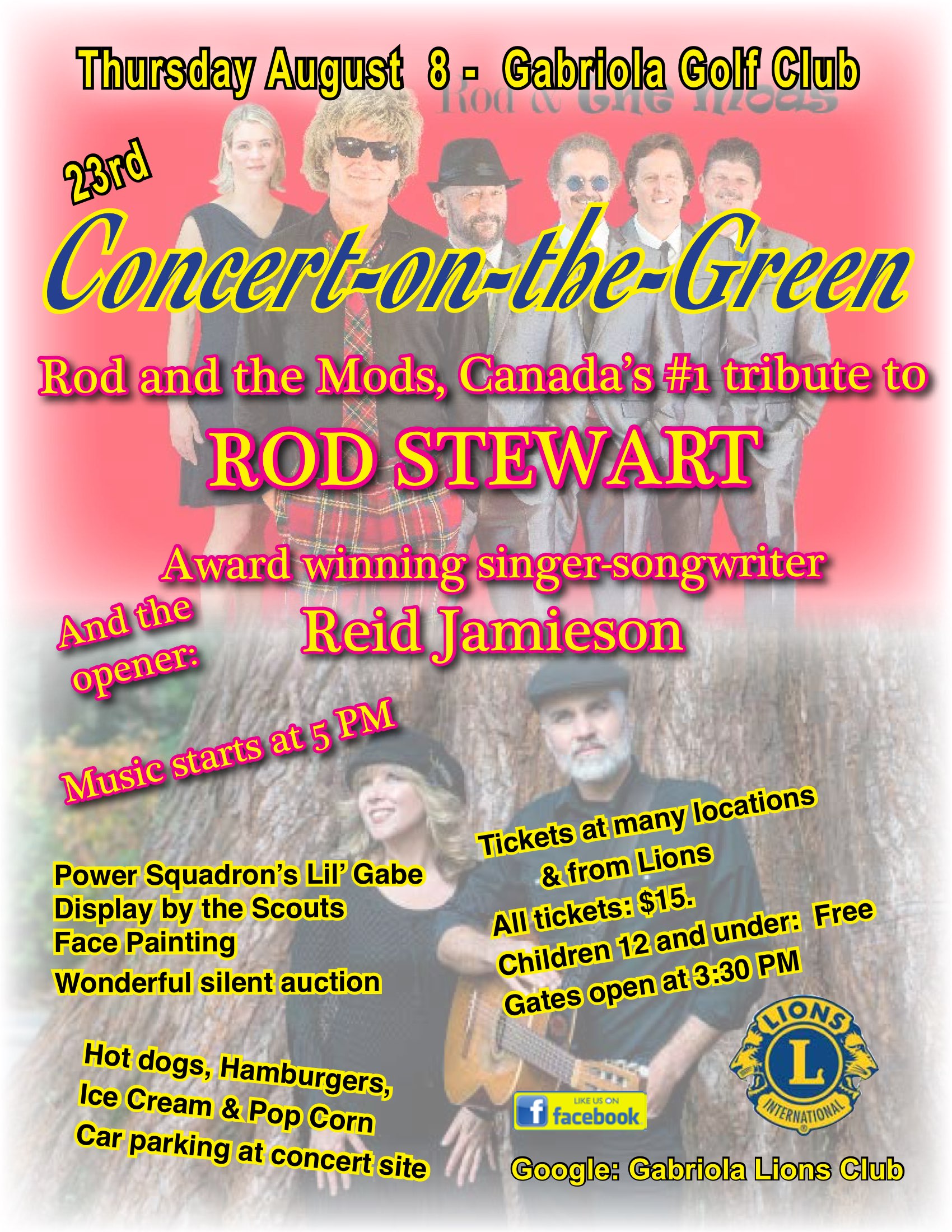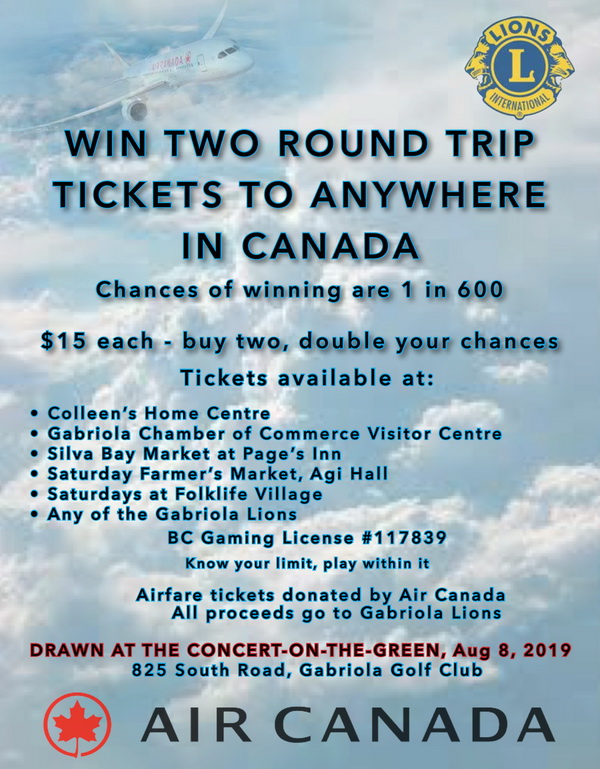 The gates open at 3:30 PM and the afternoon kicks off with several activities: for younger kids there will be Face Painting and Li'l Gabe, the Power Squadron Boat; for slightly older kids there will be demonstrations and games with the Scouts and for adults there will be a Silent Auction.
Bring your lawn chairs or blanket and enjoy the golf club's natural amphitheatre setting for this great show. There is ample free parking on site and hot dogs, hamburgers, snacks and beer will be available.
Come and join us for a wonderful afternoon and evening of great music, fun and laughter. If you have any questions, contact us at: Gabriola Lions
Date: Thursday, August 8th, 2018
Location: Gabriola Golf & Country Club
3:30 p.m. – Gates Open, Silent Auction, Hamburgers, Hot Dogs, Ice Cream, Popcorn and beer available
3:30 to 5:00 p.m. – Face Painting, Li'l Gabe (Power Squadron Boat)
4:00 to 5:00 p.m. – Scout Demo and Games
5:00 p.m. – "THE REID JAMIESON BAND"
6:00 p.m. – "ROD STEWART" Tribute by Rod and the Mods - Set #1
7:00 p.m. – Silent Auction Closes
7:10 p.m. – "ROD STEWART" Tribute by Rod and the Mods - Set #2
8:00 p.m. – Concert Ends
ROD STEWART
Tribute by Rod and the Mods
Thursday, August 8th, 2019
The Gabriola Lions Club presents its 23rd Annual Concert-on-the-Green featuring Rod and the Mods, Canada's #1 tribute to ROD STEWART.
Rod & The Mods is absolutely the most realistic Rod Stewart show next to seeing Rod himself. Brent Stewart offers one of the most authentic Rod Stewart tributes you will ever see. From the stylish suits and all the signature stage moves to a voice that's so close you'll swear it's Rod, Brent Stewart sets a new high standard for Rod Stewart tributes. Brent's voice is so amazingly similar to Rod's that he has actually been hired to sing on recording sessions for producers and songwriters who are pitching their songs to Rod. No one other than Rod himself sounds this close. When not performing as Rod Stewart, Brent tours the world playing lead guitar for Rock'n'Roll Hall of Famer Randy Bachman.
Endorsed by fans including Loverboy's Mike Reno, Randy Bachman, Country Star Patricia Conroy, and Alan Frew of Glass Tiger, it was this very support from fellow musicians that encouraged Brent to pay an ultimate tribute to Rod Stewart.
"I've never heard anyone sound that close to Rod Stewart, the crowd loved his show." - Mike Reno, Lead singer of Loverboy
"Brent Stewart is nothing less than top notch entertainment! I have worked with alot of acts, and I whole-heartedly recommend the show for any musical occasion! xoxoxo" - Patricia Conroy, Country Music Singing Star / Recording Artist / Writer / Musician / Entertainer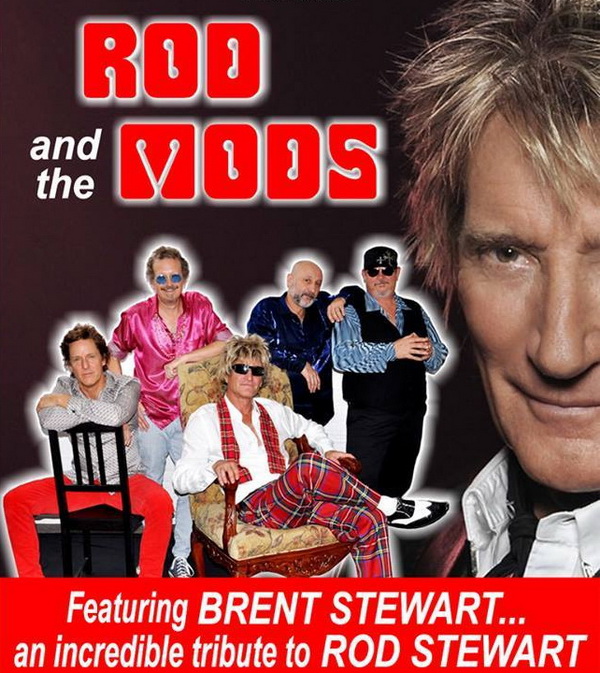 Plus
REID JAMIESON BAND
Vancouver's Reid Jamieson is a vocal powerhouse committed to making music that moves us. Known for regular appearances on CBC's Vinyl Café, to recording with Cowboy Junkies, they shine with compelling originals, plus killer covers of everything from 50s era gold to their latest tribute to Leonard Cohen. A classic introvert/extrovert combo, Reid performs with his saucy wife and long-time song-writing partner Carolyn Victoria Mill. Together they have won the John Lennon Songwriting Contest and wrote their way into the Vancouver Folk Festival by winning their Pickin' a Folk Star Contest. Their new all original album, recorded in Ireland with producer Kieran Kennedy (Maria Doyle Kennedy), is titled 'Me Daza' which is Cork slang for 'most excellent' – tho the direct translation is 'I'm dying' – but aren't we all? There is nothing traditional about this record, or this dynamic duo. You won't want to miss what they do next!
REID JAMIESON – singer songwriter – Vancouver BC
"Gorgeous, sun-struck acoustic soul" - Globe and Mail
"Prepare to be surprised" - Vancouver Provice