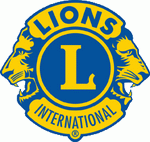 Gabriola Lions Club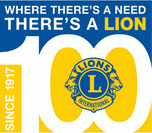 Thank you Gabriola Songs
Lions Concert on the Screen
August 13, 2020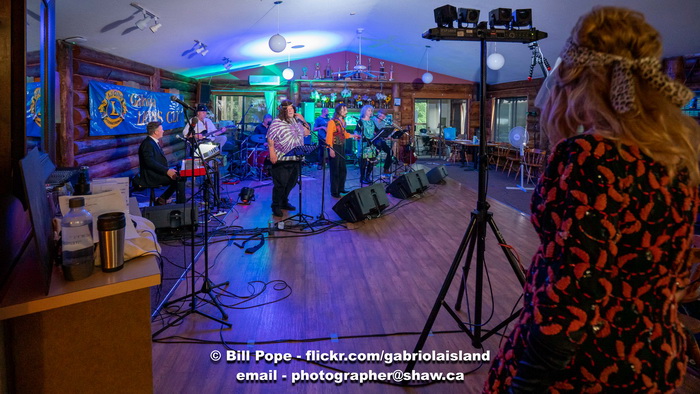 What a blast! We loved the concert "Tomorrow Never Knows", a homage to the Beatles. Many of us danced and sang in our living rooms, driveways, and out on the street so I'm told.
Thank you for your great generosity! The Gabriola Island Lions Club greatly appreciates all of you who purchased tickets and kind considerations of further donations, which keep coming in!
Who was it who said "Gabriola doth provide". And you have! In our 24th year of staging the concert-of-the-year, you all came through.
We especially want to thank the musicians and production crew of Gabriola Songs.
Tomorrow Never Knows - A Beatles Homage
Dave Tiechroeb
Gerry Stefason
Ron Cote - Roadrunner Mobile
Melanie Teichroeb
Hurley Martin Group
Sonja and Geoff
Gabriola Chamber Of Commerce
Colleens
Gabriola Golf and Country Club
Bill Pope Photography
The Sounder
Gabriola Arts Council
Steve Elder
Brad Shipley
Donations to the Gabriola Lions Club are greatly appreciated and can be made by e-transfer to our club Treasurer with a memo note "Concert on the Screen" HERE; or there is always mail PO Box 261, Gabriola, V0R1X0.
Your support helps to further our mission "We Serve" providing funding and help for our Gabriola Community. We all have benefited. A list of projects can be requested at gabriolalions@gmail.com or check out How We Help
Your support is invaluable to us, thank you again!
Carol Martin, Secretary
Gabriola Lions Club
August 17, 2020
---
Virtual Walk for DogGuides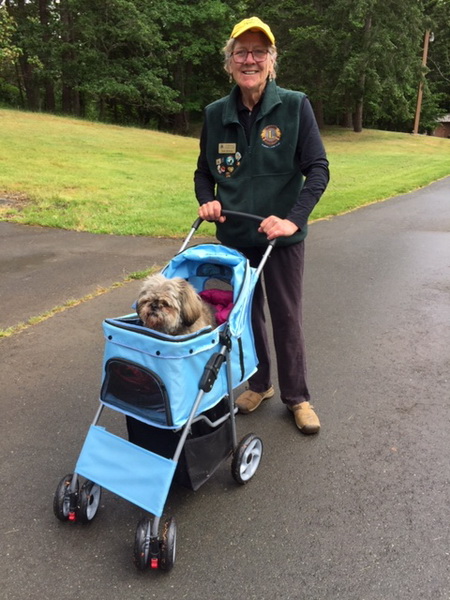 Lion Jude and Buddy on the Dog Walk
See the story of our annual walk for DogGuides HERE.
Gabriola Community Health
Centre and Helipad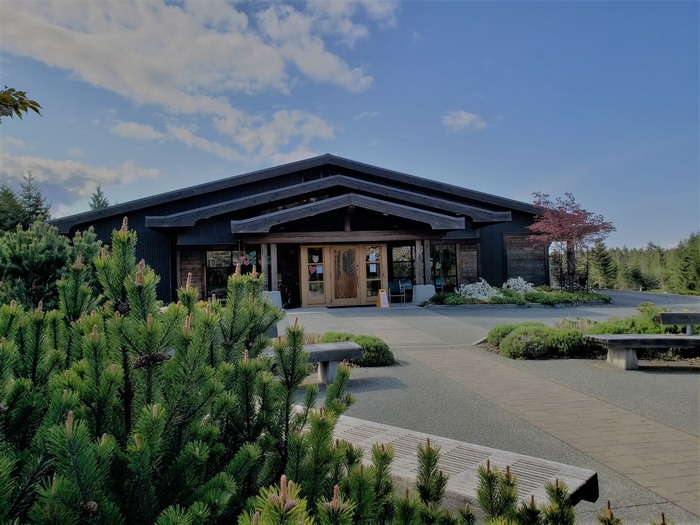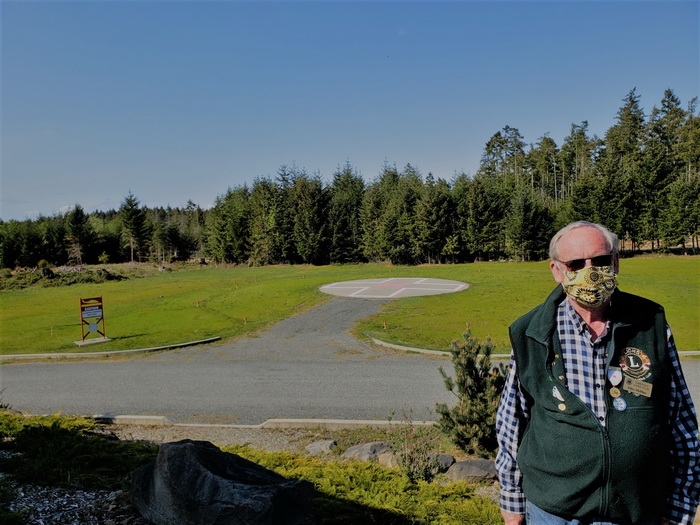 Gabriola Lions and the Health Centre - read all about it HERE. (photo: Lion Carol Martin)
More Wood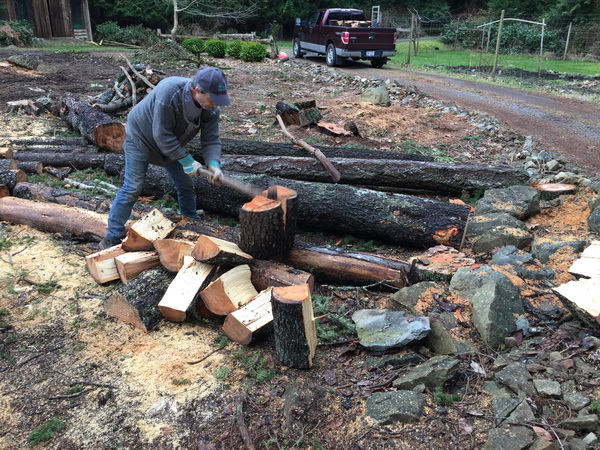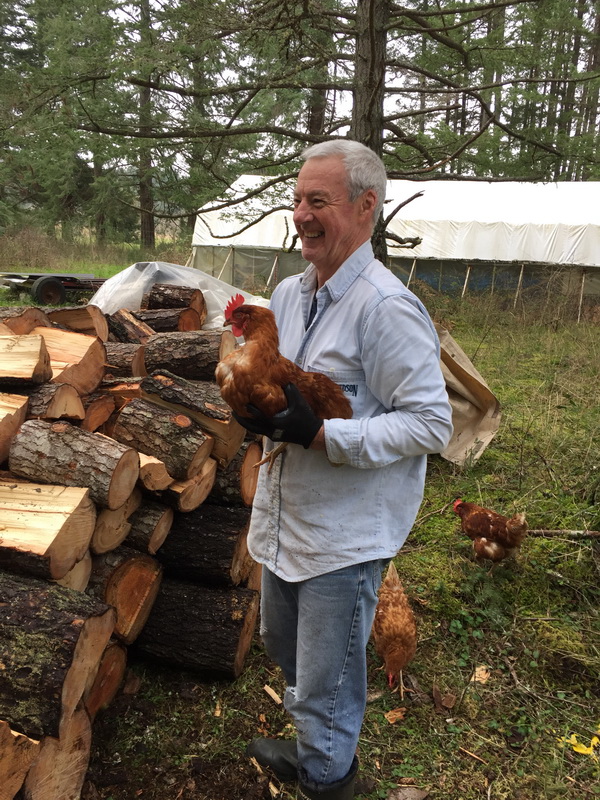 Lion Bruce whittled the big pieces to a manageable size and we learned Lion Graham has a thing for chickens! 😳
Lion of the Year 2019
Carol Martin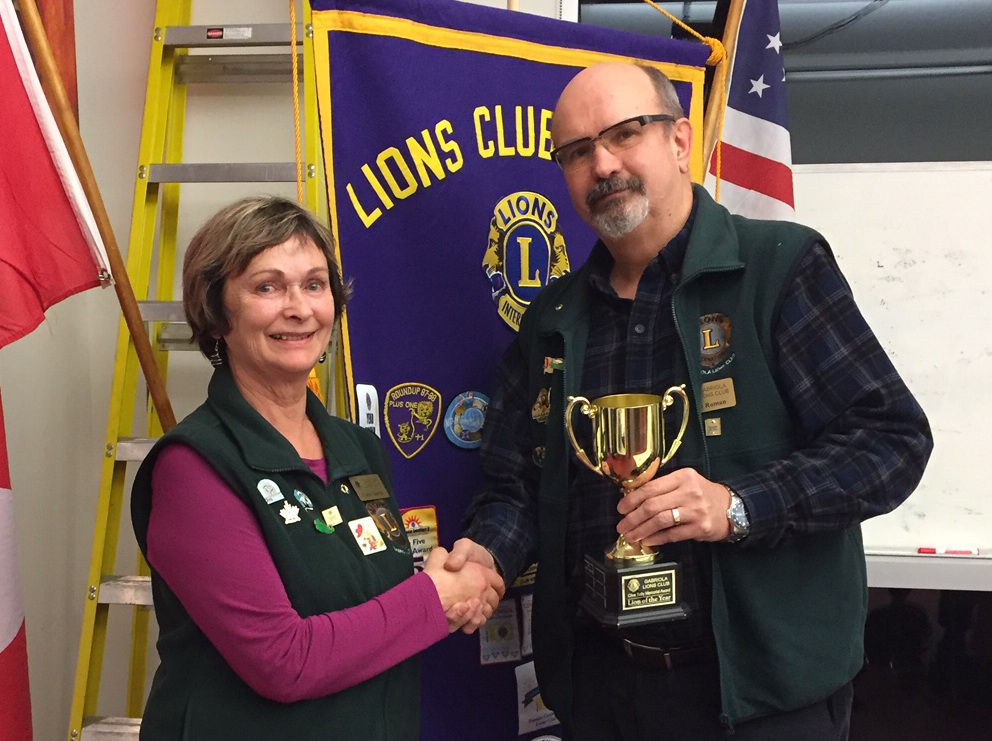 Heartiest congratulations to Lion Carol Martin for having been chosen by her fellow Lions as Lion of the Year. Carol has done a stellar job as club Secretary, a pivotal and most challenging job in the club. Shown is Lion John Roman presenting the trophy to Carol. Well done Carol!
Concert-on-the-Green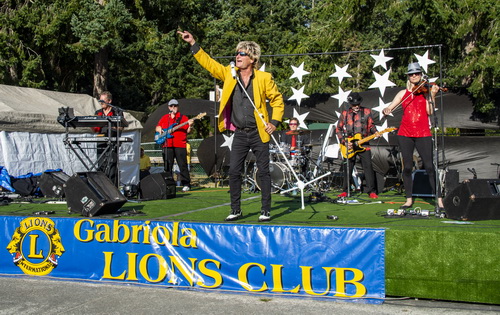 The 23 Annual Concert-on-the-Green was another great success. Held on Thursday, August 8, our opening act was The Vinyl Cafe's Reid Jamieson Band, featuring Reid Jamieson and Carolyn Victoria Mill; the feature presentation was a ROD STEWART tribute by Rod and the Mods, featuruing Brent Stewart. More than 1,100 people attended and over $31,000 raised for our charitable programs on Gabriola!
Congratulations to R.J. Bastedo of Waterdown, ON, winner of our raffle for two Air Canada tickets to any destination they serve in Canada!
See Lion Don Butt's wonderful concert photos HERE.
Photos of past concerts are HERE.
Concert Crew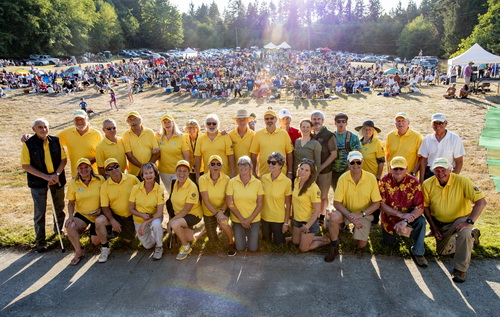 Lions smiling at the success of this year's Concert-on-the-Green. More concert photos HERE.
Community Broom Pull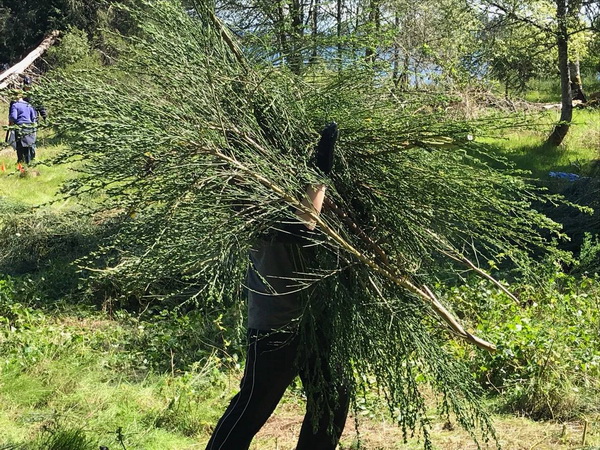 Gabriola Lions and the Gabriola Lands and Trails Trust sponsored a community effort to eliminate invasive scotch broom from the island. More photos HERE
35 Years a Lion!
Lion John Barton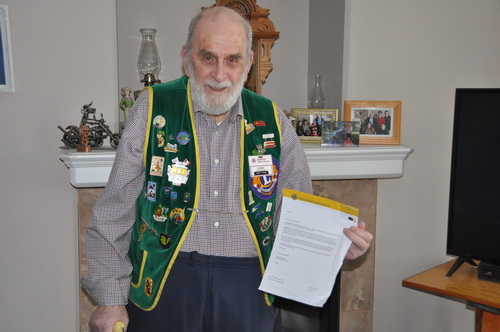 Heartiest congratulations to Lion John Barton on receiving an insignia representing his 35-years of service as a Gabriola Lion from Lions Clubs International, an inspiration to us all.
Lion of the Year
Lion John Roman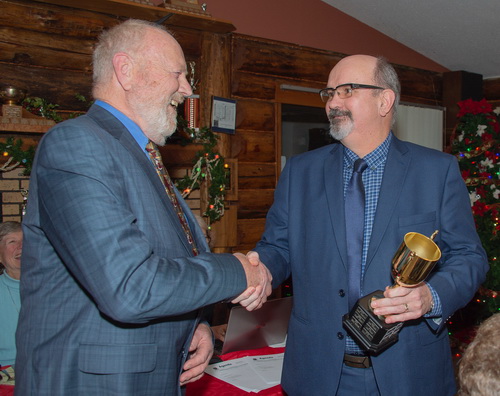 Heartiest congratulations Lion John Roman on being voted 2018 Lion of the Year by his fellow Lions. John's tireless work as Chair of the Concert on the Green Committee has lead to its tremendous success. President Doug Cavill presents the trophy.
Broom Bashing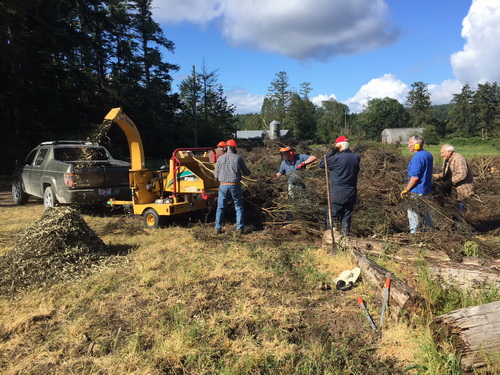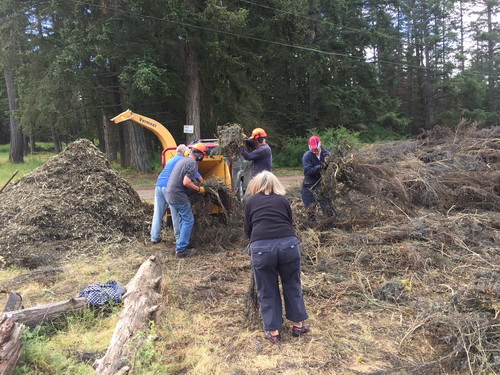 Broom headed for the chipper on 6 June 2018. (Photos: Dixon Kenny)
Next Meeting
28 September, 2020
7:00 p.m.
via ZOOM

Regular meetings are held at the Gabriola Fire Hall #1, Training Room, 730 Church Street, Gabriola Island, B.C., every second and fourth Monday of each month, September through June, but not on Holiday Mondays, such as Thanksgiving, Victoria Day or during Christmas week.

To Request Funding Assistance, see How We Help.

Lion Dixon Kenny Awarded
Judge Brian Stevenson Fellowship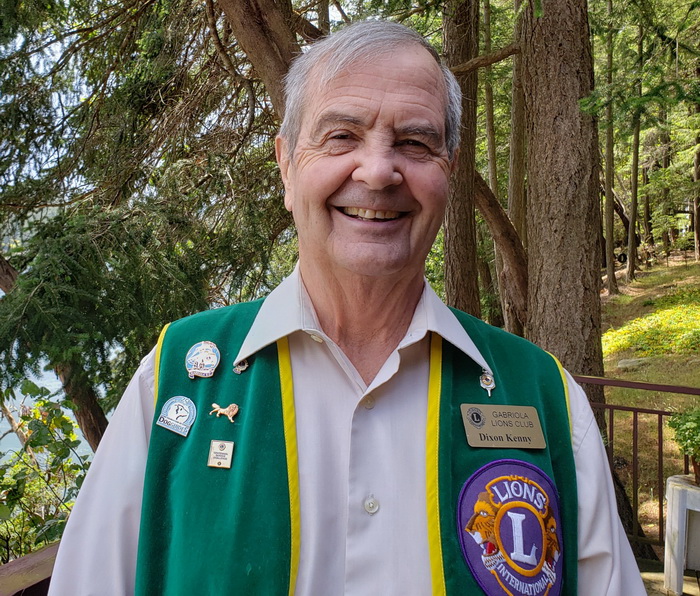 Heartiest congratulations to Lion Dixon on being awarded the prestigious Judge Brian Stevenson Fellowship. See his citation Here. (Photo Lion Carol Martin)
Cutting Broom at the School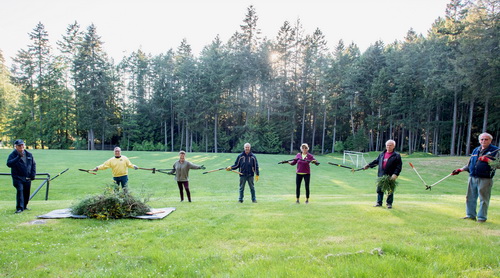 Lions physically distancing during a work party to cut invasive broom at the Gabriola Elementary School on 14 May 2020. (Photo Lion Don Butt)
Lion Bernard Wohlleben, RIP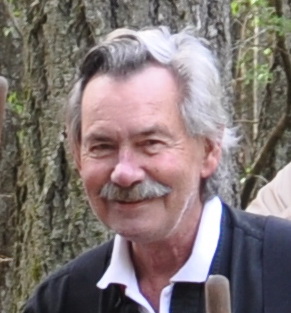 It is with great sadness we announce the sudden passing of Lion Bernard W. Wohlleben, November 17, 2019 . Bernard was actively involved with the Lions on Gabriola since 2006, and sponsored by Lion Eric Boulton. Bernard, always a jovial presence, helped with the repairs of Drumbeg Road, Concert on the Green, wood splitting, and many of our projects for the good of our Gabriola community. He will be missed. Our condolences to his family.
Firewood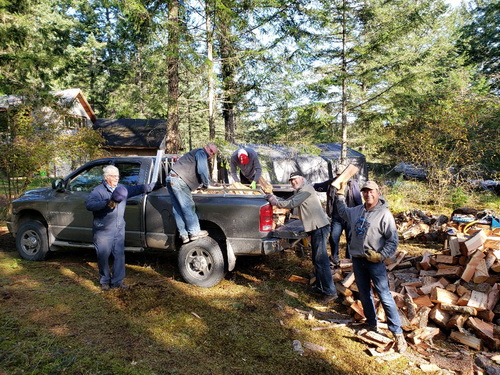 Lions load and deliver firewood to five families on Gabriola on 28 Sep 2019.
Pancake Breakfast Crew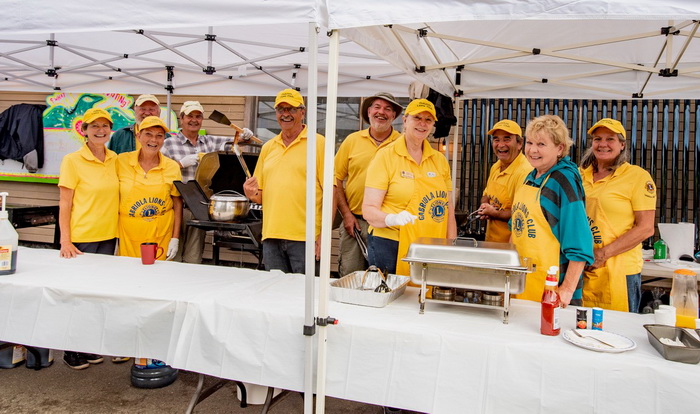 On Aug 30 & Sep 1 Lions got together at the Commons for a pancake breakfast fundraiser. The Culivate Music Theatre Art Festival was underway and several Lions worked to provide a great breakfast for visitors over two days. Here Lions Anne, Doug, Kathy, Dixon, Larry, Jon, Sharon, Paul, Miriam and Betsy are ready as the day-one breakfast crew. (Photo: DB)
Scholarships 2018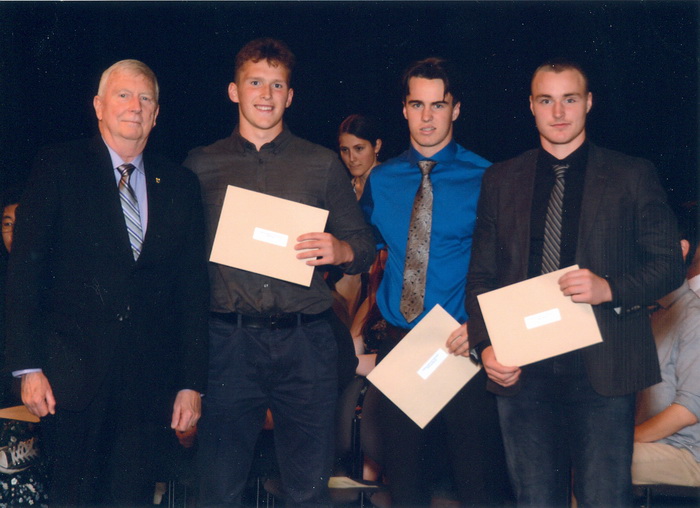 High School graduates Caleb Pounds, Maren Bradbrooke and Zephyr Melnyk each received a $2,000 scholarship from our club at an Honors Night at the Port Theatre in June. Lion Bill Kalbfleisch presented the awards on behalf of the club.
Lions Walk for Dog Guides
Sunday May 27, 2018

With sunny weather our walk headed out from Gabriola Sands Provincial Park with 35 plus walkers and furry friends. We were delighted to have Larry Smith join us with his Lions hearing assistance dog guide Vespa! Thanks to the generous Gabriola community, over $1,100 was raised! (Photo: Jude Briscoe)
Lions Foundation Dog Guides support Vision, Hearing, Seizure, Autism, Diabetic and other physical or medical disabilities. Although it costs $25,000 to train a Dog Guide, they are provided free to the recipients due to the fundraising and generous donors.
Online donations to this very worthwhile cause can be made HERE.
The Logs Await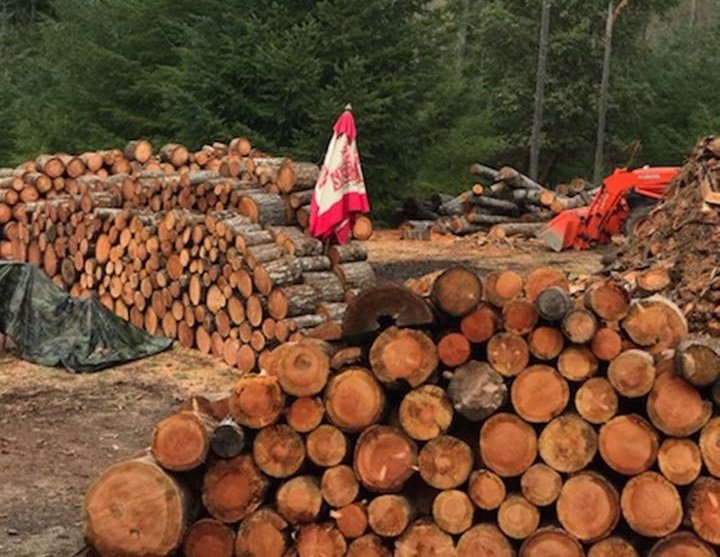 Shown here are some of the logs that have been bucked in preparation for the arrival of the Wood Splitting Lions on Saturday, 21 April, 2018 at Lion Mike's. This is an important work party as it helps season the wood for next winter's "Firewood for Those in Need" project. Thank you Ben, Curtis and Trevor of Gabriola's Island Tree Service for bucking the wood to get it ready for us to split.
The Wood Splitting Work Party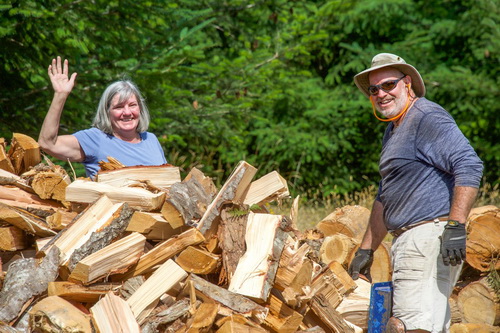 Lions and friends got together to split wood for our Firewood for the Needy program. Logs donated to the Lions had been bucked and stacked and numerous wood splitters were loaned to the club for the task. Many thanks to the friends of the Lions who came out to give us a hand. Here President Betsy and Lion Jon take care of business. (Photos: DB)
Gold Centennial Membership Award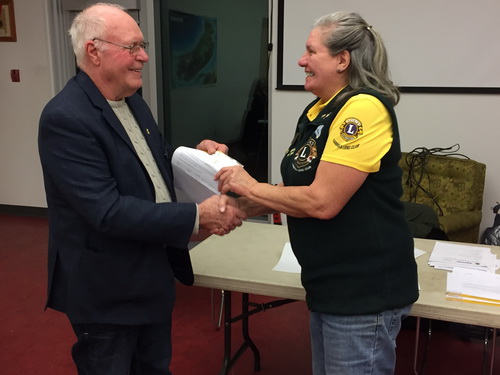 Zone Chair Gary Price presents a Gold Centennial Membership Award to Lion Betsy Banford on 28 January 2019.
Concert-on-the-Green
Postponed to 2021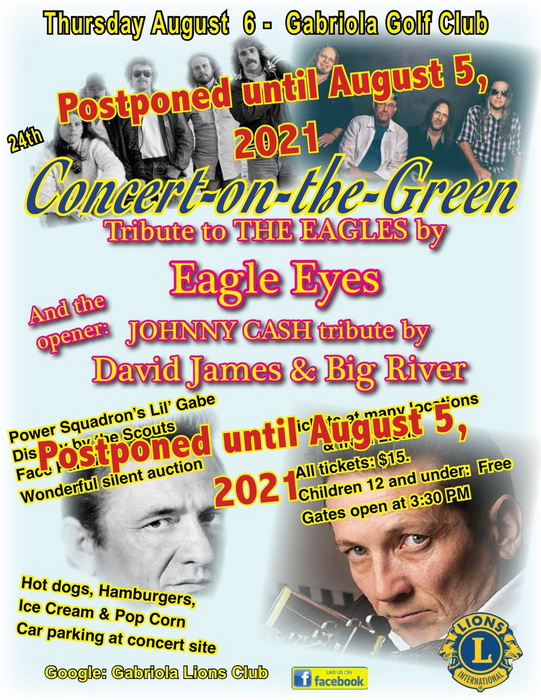 Regretfully, due to the COVID-19 Pandemic, we have had to postpone our annual Concert-on-the-Green until August 5, 2021
New Lion
Tom Hann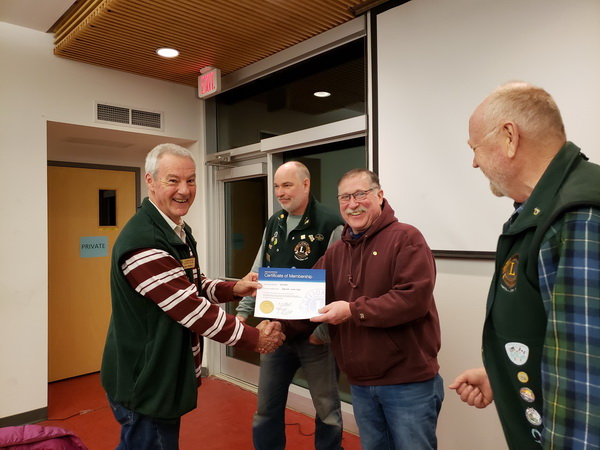 Lion Graham Miller, Membership Director, presents new Lion Tom Hann with his Certificate of Membersip on 24 February 2020 as his Sponsor Lion Jon Carlson and President Doug Cavill look on. Congratulations Tom and welcome to the club.
Long-Term Lions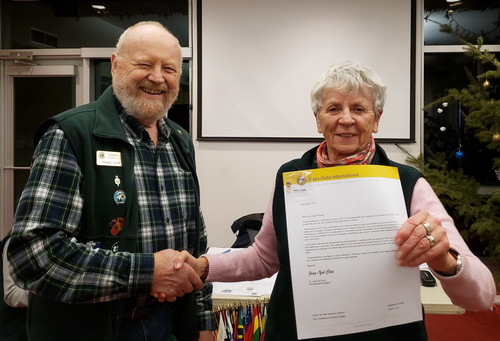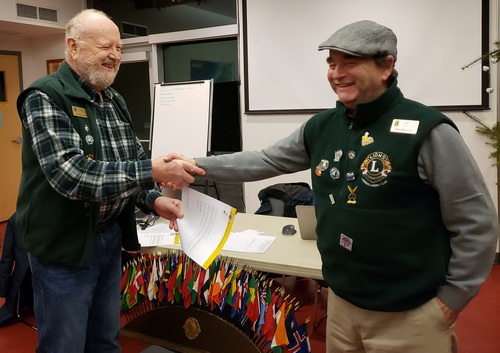 Lion Olga Korinek (upper photo) and Lion Paul Kuszyk (lower photo) receive Milestone Chevron Awards from President Doug recognizing Lion Olga's 20 years of service and Lion Paul's 15 years of service.
New Lion
Steve Smith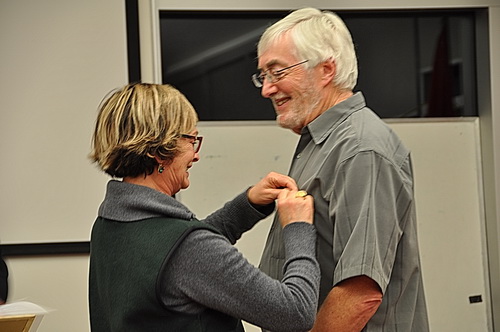 Lion Carol Martin "Pins" new Lion Steve Smith at our 25 November 2019 meeting. Welcome to the Gabriola Lions Club Steve!
Drumbeg Road Rebuild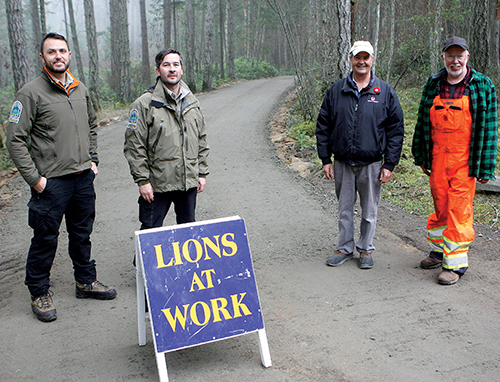 At the gateway to Drumbeg Provincial Park (L-R) Park Ranger and Communications Liason Craig Meding and Senior Park Ranger John King of BC Parks West Coast Region with Lions Dixon Kenny and Bob Rooks. Story and more photos HERE (Photo: Derek Kilbourn, The Gabriola Sounder)
Long-Term Lions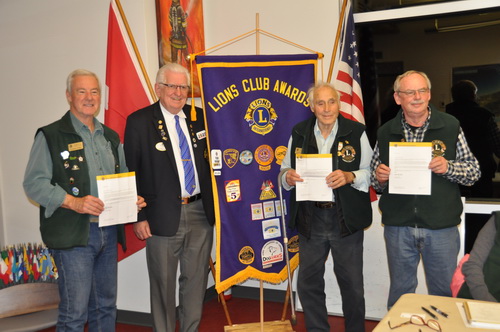 District Governor Cec Specht presented Milestone Chevrons to long serving members of the club on November 25,2019. Here (L-R) are Lion Graham Miller (15 years), DG Cec Specht, Lion Eric Boulton (45 years) and Lion Mike Phillips (15 years).
Centennial Service Challenge Award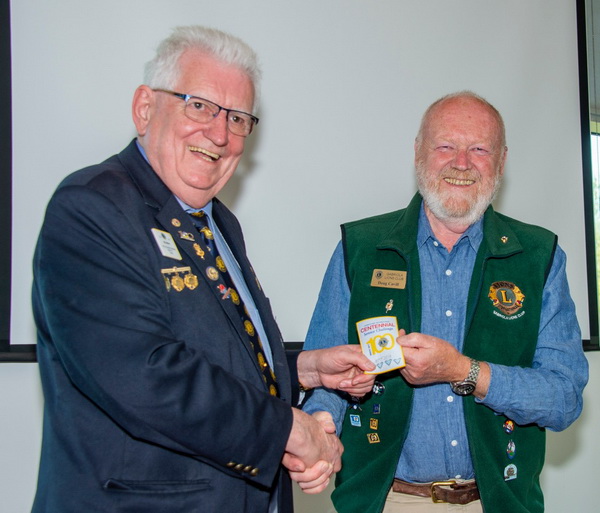 District Governor Elect Cec Specht visited to present our club with a Centennial Service Challenge Award for having completed Lions Centennial projects related to Youth, Environment, Vision and Relieving Hunger in our community.
More Firewood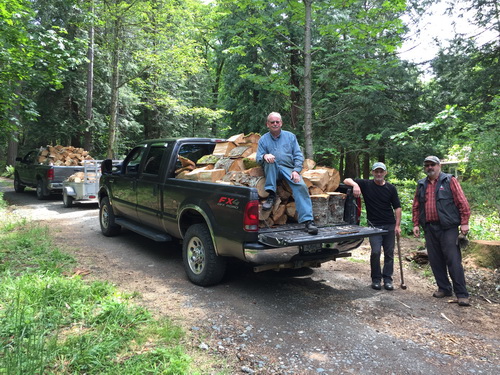 Lions Mike, Bruce, John and Doug (the photographer) taking a well earned break after loading two cords of donated wood.
Silver Centennial Pin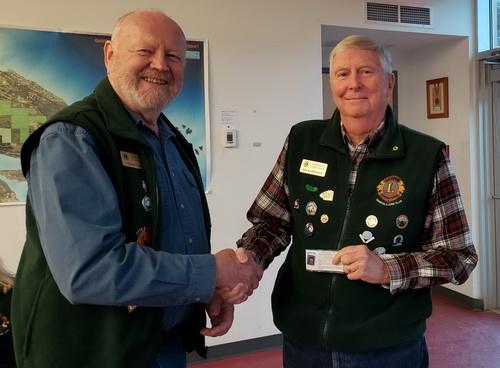 President Doug Cavill presents a Silver Centennial Pin to Lion Bill Kalbfleisch on 25 March, 2019 in recognition of Bill recruiting new members to the club.
Silver Centennial Pin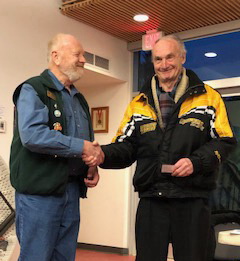 President Doug Cavill presents a Silver Centennial Pin to Lion John Coleman on 11 March, 2019 in recognition of John recruiting new members to the club.
10 Years a Lion
Lion John Roman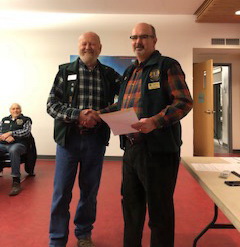 President Doug Cavill presents Lion John Roman with a pin in recognition of his 10 years as a Lion