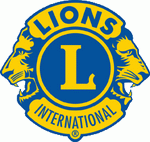 Gabriola Lions Club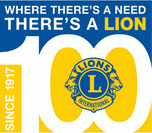 35 Years a Lion!
Lion John Barton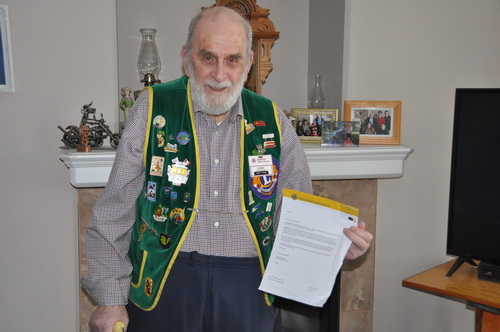 Heartiest congratulations to Lion John Barton on receiving an insignia representing his 35-years of service as a Gabriola Lion from Lions Clubs International, an inspiration to us all.
Lion of the Year
Lion John Roman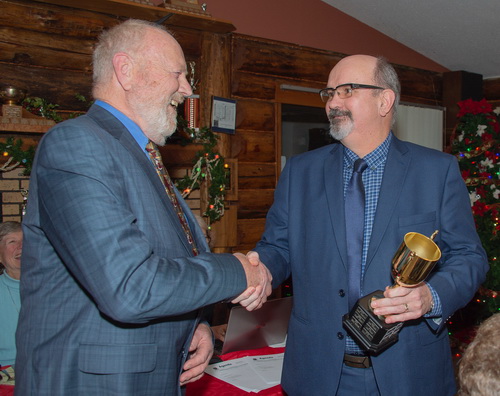 Heartiest congratulations Lion John Roman on being voted 2018 Lion of the Year by his fellow Lions. John's tireless work as Chair of the Concert on the Green Committee has lead to its tremendous success. President Doug Cavill presents the trophy.
Concert-on-the-Green
9 August 2018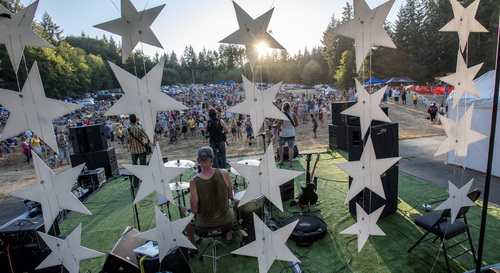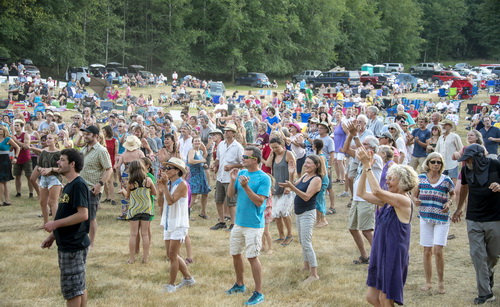 Another classic Concert-on-the-Green! Completely Creedence presented the music of Creedence Clearwater Revival and The Great Divide gave us the music of The Band - a great show! Over 1400 people attended and had a great time.
See more of Lion Don Butt's wonderful concert photos HERE.
2018 Lions Air Canada Raffle
We have a winner!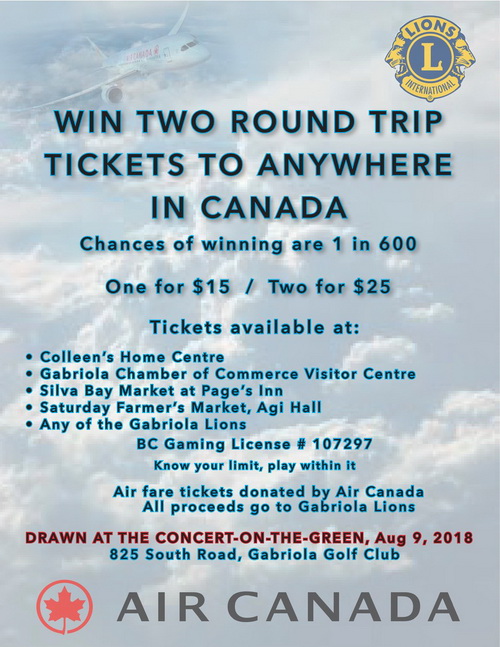 Heartiest congratulations to Michelle Crozier of North Vancouver on winning this year's raffle!
Broom Bashing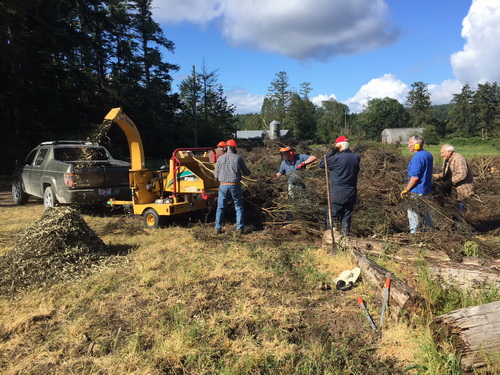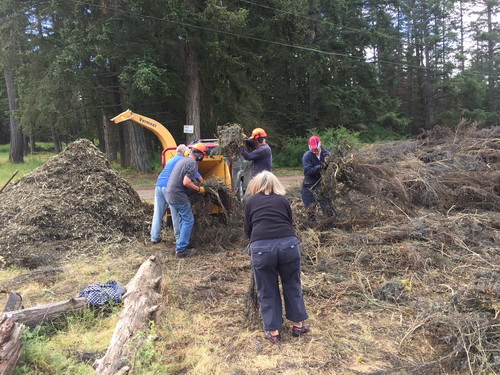 Broom headed for the chipper on 6 June 2018. (Photos: Dixon Kenny)
Community Broom Pull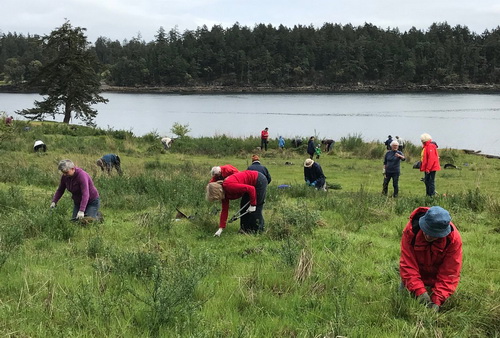 On 29 April, 2018 Lions combined with members of the Gabriola Lands and Trails Trust and members of the community to remove Scotch Broom from Drumbeg Provincial Park. Approximately 100 people participated.
Broom Pulling Party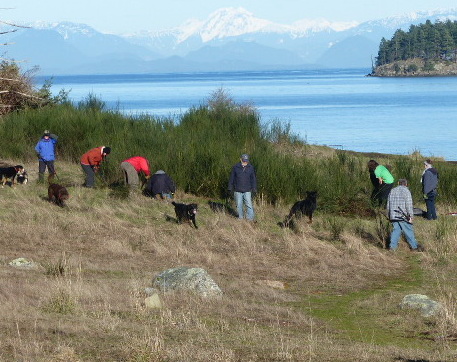 Lions join members of the Gabriola Lands and Trails Trust (GaLLT) to remove invasive Scotch Broom from Drumbeg Provincial Park. We repeat this exercise two or three times a year to try to control this ecologically destructive species. (photo: Lion Shirley Nicolson)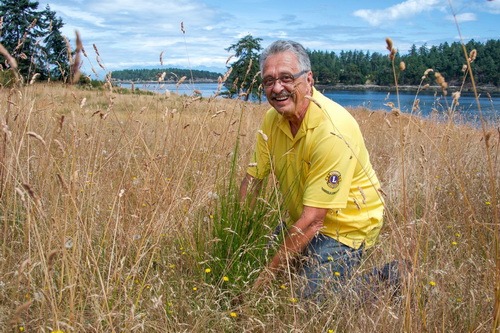 Lion Larry deals with a problem. (Photo: DB)
Next Business Meeting
13 May, 2019
6:30 p.m. for 7:00 p.m.

Regular meetings are held at the Gabriola Fire Hall #1, Training Room, 730 Church Street, Gabriola Island, B.C., every second and fourth Monday of each month, September through June, but not on Holiday Mondays, such as Thanksgiving, Victoria Day or during Christmas week.

To Request Funding Assistance, see How We Help.

Scholarships 2018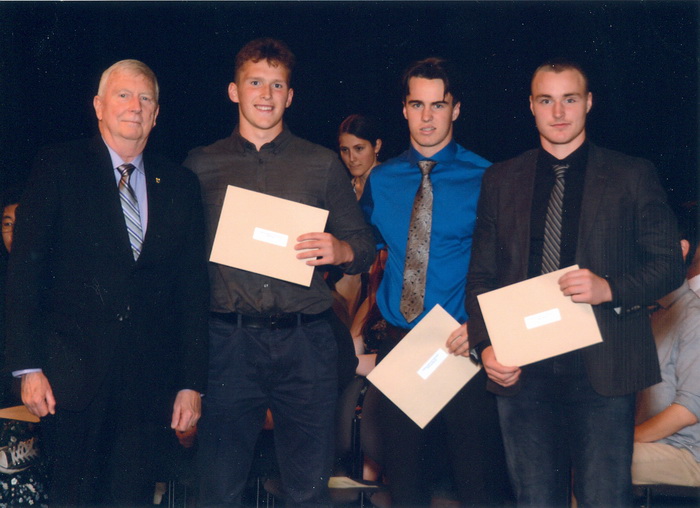 High School graduates Caleb Pounds, Maren Bradbrooke and Zephyr Melnyk each received a $2,000 scholarship from our club at an Honors Night at the Port Theatre in June. Lion Bill Kalbfleisch presented the awards on behalf of the club.
District Governor Michael Dukes Visit
Monday September 24, 2018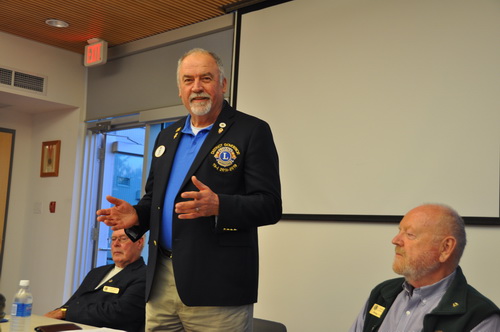 District Governor Mike Dukes' annual visit to our club to talk to us about Lionism. Also shown are Zone Chair Gary Price (L) and Gabriola Lions President Doug Cavill. (Photo: BK)
Lions Walk for Dog Guides
Sunday May 27, 2018

With sunny and pleasant weather, our walk headed out from Gabriola Sands Provincial Park with 35 plus walkers and furry friends. Dogs and owners ranged in age and size and we were most honoured to have Larry Smith join us with his Lions hearing assistance dog guide Vespa! What a treat seeing this lovely yellow lab doing her job supporting Larry! Afterward, most of the pooches went to the beach for a well deserved romp and swim! A heart felt thank you to the Gabriola community for their support of this event! (Photo: Jude Briscoe)
Cash donations of $905.40 and online donations of $240 brought our total donations to $1,145.40. Another great year and we surpassed our $1000 goal!
Lions Foundation Dog Guides support Vision, Hearing, Seizure, Autism, Diabetic and other physical or medical disabilities. Although it costs $25,000 to train a Dog Guide, they are provided free to the recipients due to the fundraising and generous donors.
Online donations to this very worthwhile cause can be made HERE.
The Logs Await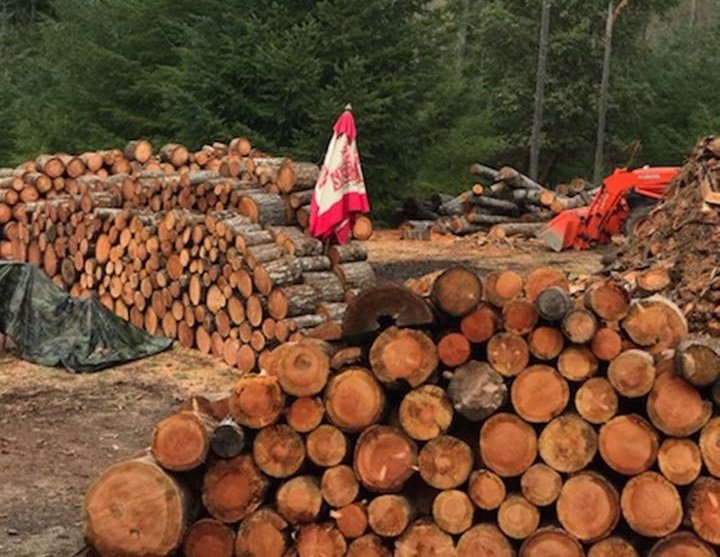 Shown here are some of the logs that have been bucked in preparation for the arrival of the Wood Splitting Lions on Saturday, 21 April, 2018 at Lion Mike's. This is an important work party as it helps season the wood for next winter's "Firewood for Those in Need" project. Thank you Ben, Curtis and Trevor of Gabriola's Island Tree Service for bucking the wood to get it ready for us to split.
The Wood Splitting Work Party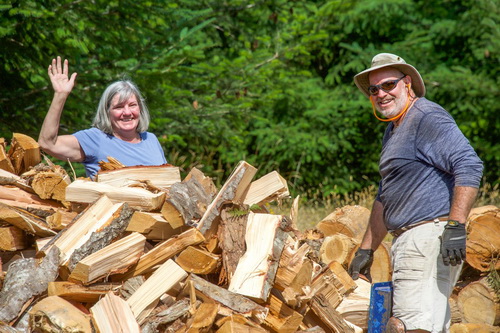 Lions and friends got together to split wood for our Firewood for the Needy program. Logs donated to the Lions had been bucked and stacked and numerous wood splitters were loaned to the club for the task. Many thanks to the friends of the Lions who came out to give us a hand. Here President Betsy and Lion Jon take care of business. (Photos: DB)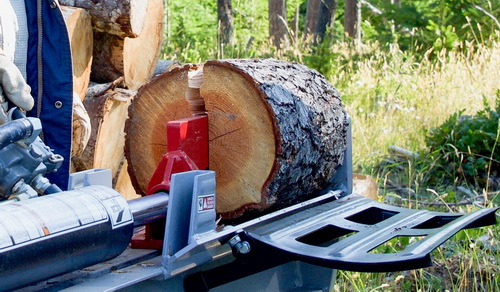 Run, Jump, Throw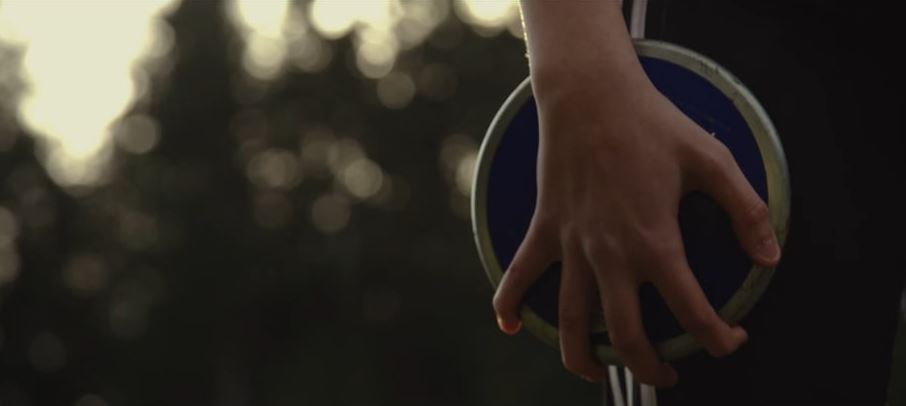 The Gabriola Run, Jump, Throw Program is an after-school activity for students to learn the fundamentals of track and field sponsored by the Gabriola Recreation Society. Gabriola Lions donated $1000 to the program to assist with the purchase of sports equipment. Check out their Thank You video by clicking on the Photo or HERE
Huxley Park Lions Crest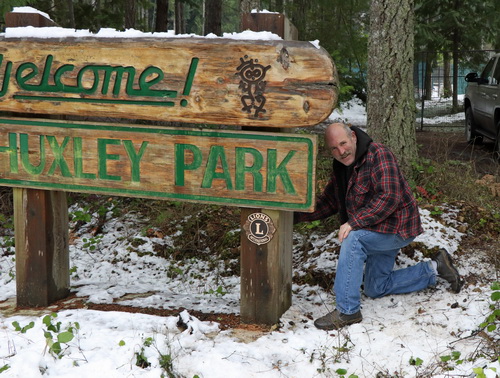 On 21 December, 2017 Hector Banford installed the Lions crest on the Huxley Park sign in recognition for the club's $12,000 donation for park renovations and playground equipment.
Silver Centennial Pin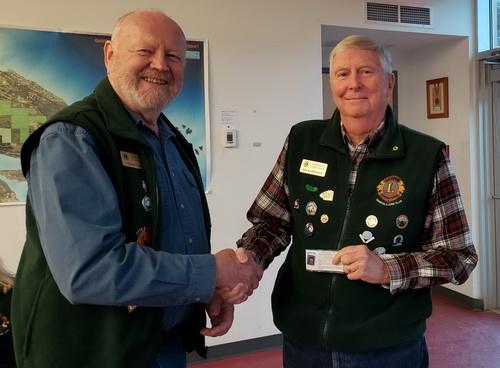 President Doug Cavill presents a Silver Centennial Pin to Lion Bill Kalbfleisch on 25 March, 2019 in recognition of Bill recruiting new members to the club.
Silver Centennial Pin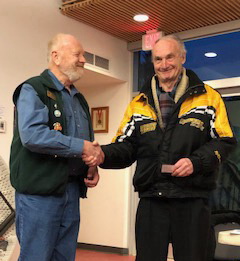 President Doug Cavill presents a Silver Centennial Pin to Lion John Coleman on 11 March, 2019 in recognition of John recruiting new members to the club.
10 Years a Lion
Lion John Roman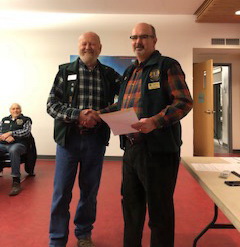 President Doug Cavill presents Lion John Roman with a pin in recognition of his 10 years as a Lion
Gold Centennial Membership Award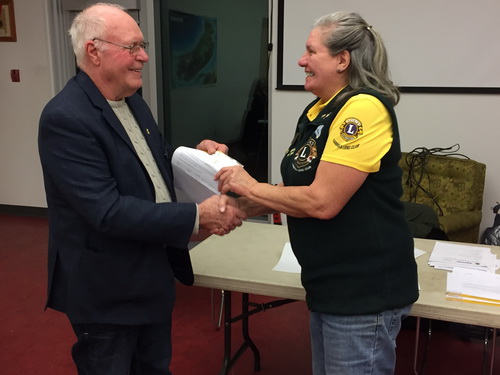 Zone Chair Gary Price presents a Gold Centennial Membership Award to Lion Betsy Banford on 28 January 2019.
Youth Camp and Exchange Program (YCE) 2018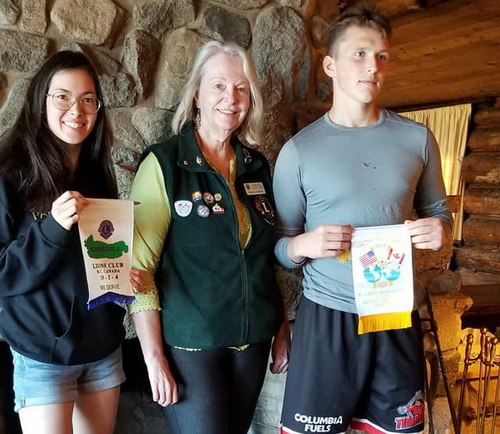 Lion Sharon Robert, our YCE coordinator, shown here with our 2018 program participants Nanami (left) and Caleb at their orientation session. Nanami is headed to Greece for three weeks this summer while Caleb is off to Norway for three weeks. Participants are encouraged to use this travel opportunity to represent their home countries and share their own culture while learning about and embracing a new one, forging the way to becoming young ambassadors for peace and international understanding. YCE is composed of various Lions Youth Exchanges and/or Lions Youth Camps arranged by Lions clubs around the world.
New Members
Lions Pat Wicharuk, James Hollis and Karen Hollis
Lions Olga Korinek and Eric Boulton welcome new Lions Pat Wicharuk, James Hollis and Karen Hollis to the club at their Induction Ceremony on 14 May 2018.(Photo: CM)
Happy Birthday Lion Eric!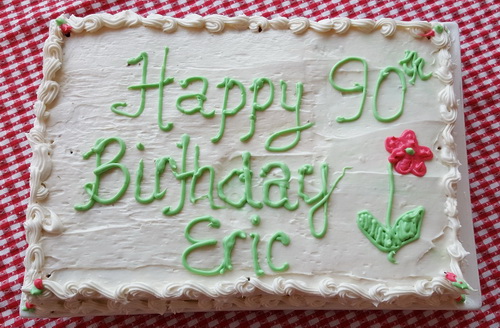 Lions sang a hearty Happy Birthday to Lion Eric as he celebrates his 90th before tucking into his delicious birthday cake. (Photo: CM)
New Members
Lions Ryan St. Pierre and Nicholas Read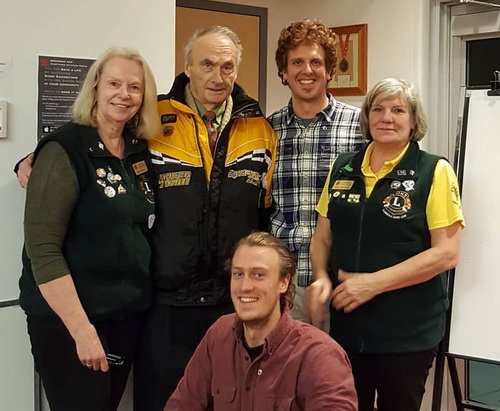 On 22 January 2018 Ryan St.Pierre and Nicholas Read were inducted into the club. Lions shown here are: Membership Director Sharon Robert, Sponsor John Coleman, Ryan St. Pierre, President Betsy Banford and, kneeling, Nicholas Read. Welcome aboard Ryan and Nicholas! (Photo: CM)
Silver Centennial Award
Lion Betsy Banford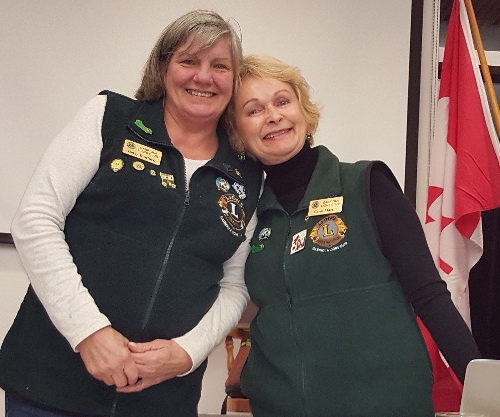 On 8 January 2018 Gabriola Lions President Betsy Banford, shown here with Lions Secretary Carol Martin, was presented the Lions Silver Centennial Award in recognition of recruiting a new member into the club. (Photo: Lion Kathy Ensor)
Hot Dogs and Tickets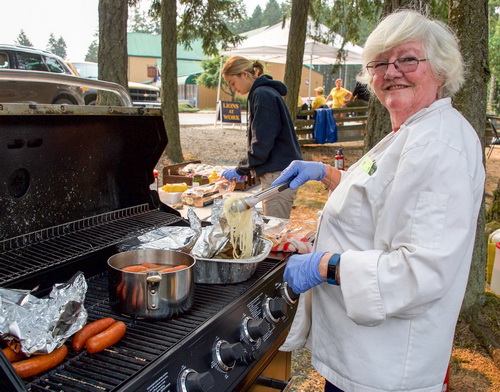 On 5 August Lions got together in the Village parking lot to sell tickets for our upcoming Concert on the Green and Air Canada ticket raffle. We also did a little fundraising by selling hotdogs - here Lion Shirley performs Chef duties with help from visiting WWOOFer Rieki. More photos HERE (Photo: DB)
Pancake Breakfast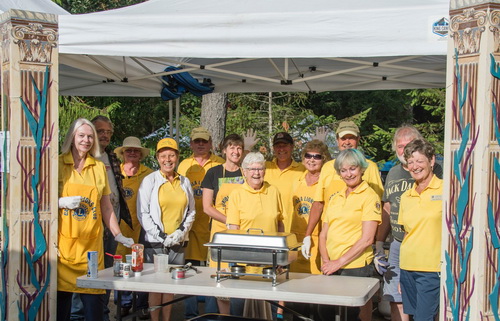 On 19-20 August Lions got together in the Village for a pancake breakfast fundraiser. The Gabriola Theatre Festival was underway and several Lions worked to provide a great breakfast for visitors over two days. Here Lions Sharon, Larry, Shirley, Kathy, Mike, Dawn, Joan, Ken, Miriam, Dixon, Carol, Bill and Anne are ready as the day-two breakfast crew. (Photo: DB)