Caleb gets his eyes checked!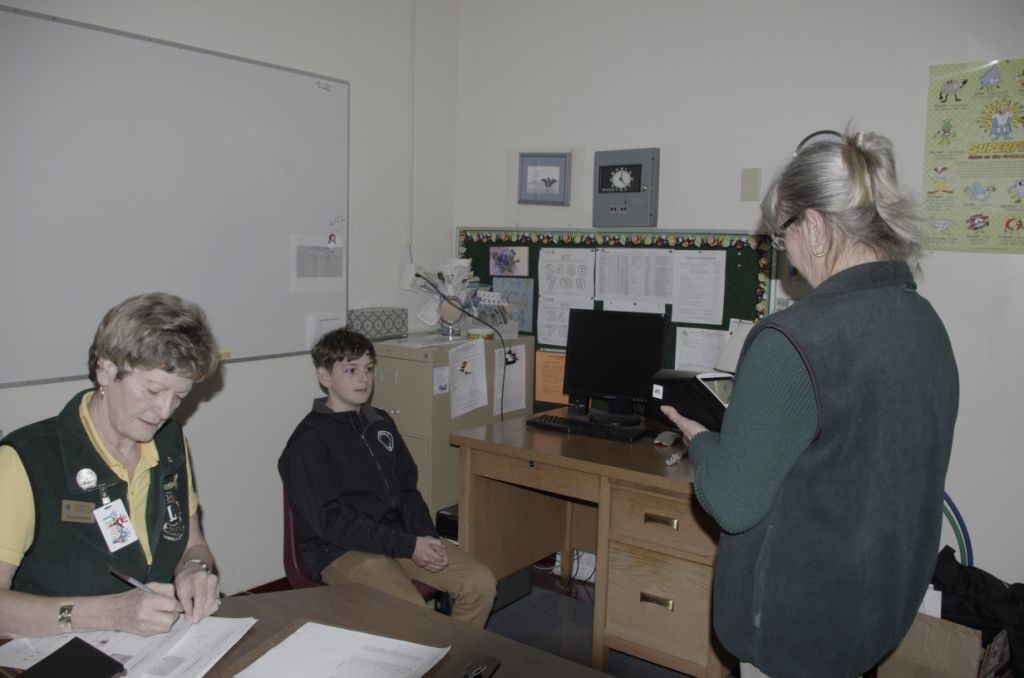 Gabriola Elementary School student Caleb Nittel simply has to look at the SPOT Screener held by Lion Merrilee Wur to have his eyes checked. Caleb's grandmother, Lion Anne Banford, completes the log.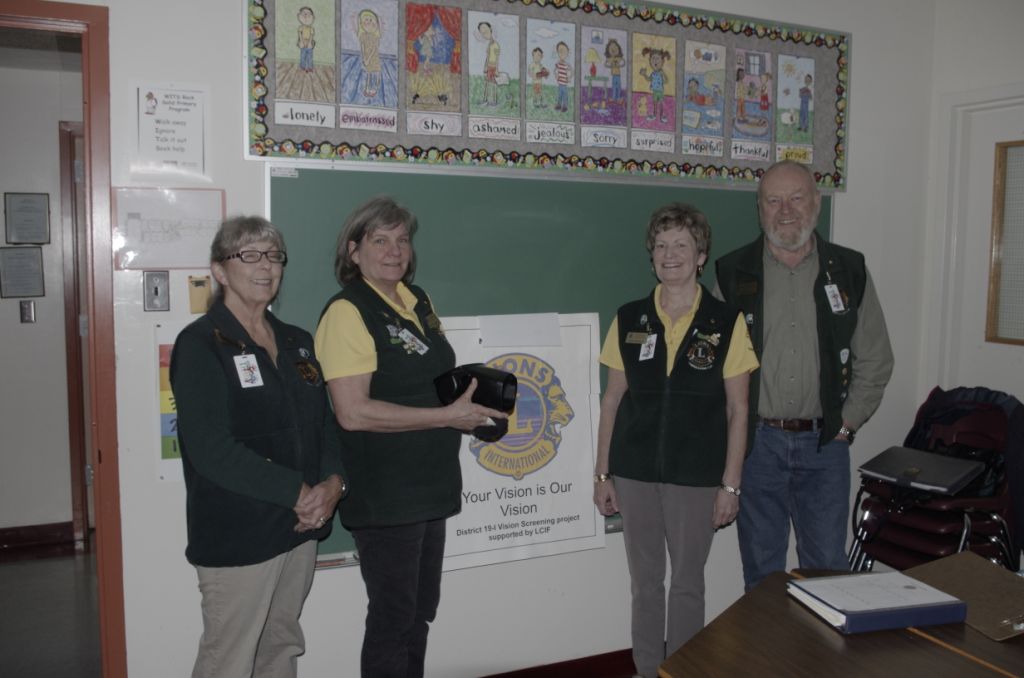 Lions Merrilee Wur, Betsy Banford, Anne Banford and Doug Cavill at the Gabriola Elementary School to screen students' eyes.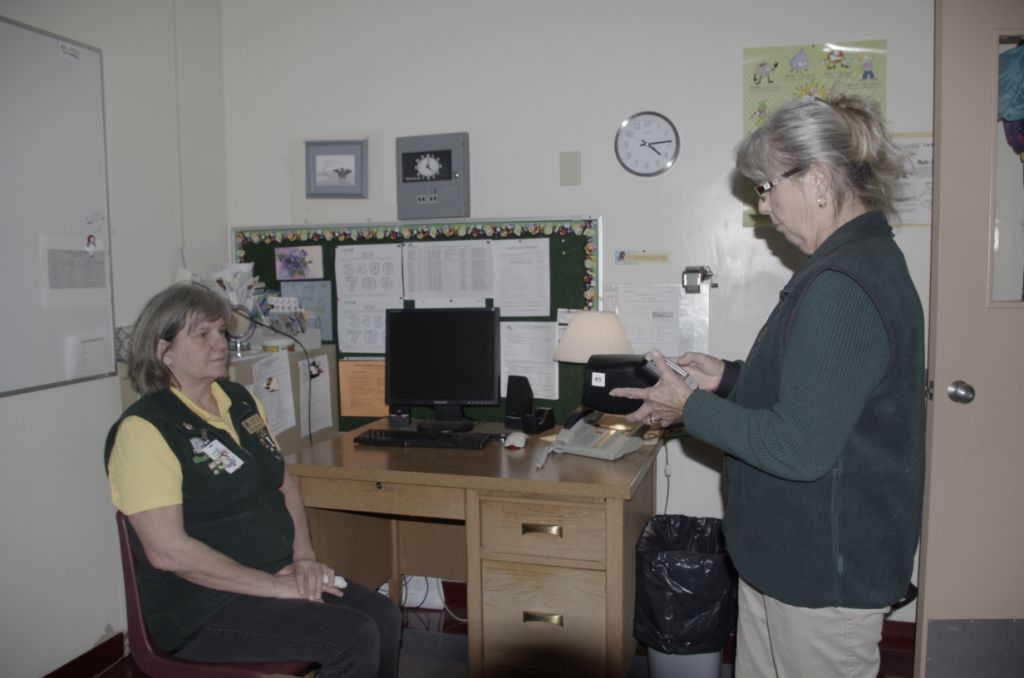 Lion Merrilee performs the screening on Lion Betsy.
Vision Screening
"Vision affects a child's ability to see the world but it also impacts a child's ability to learn," said Dr. Ed Cordes an optometrist and chairperson of a Lion's vision program. "Experts say that up to 80% of learning is visual, so we need to screen all children to identify any vision issues that can get in the way of learning."
The Lion Clubs of Vancouver Island have focused on a Vision Project "Your Vision is Our Vision" under the direction of District Governor Brian Phillips. Presently there are 13 Lions clubs on Vancouver Island that have donated $32,200 for the purchase of five (5) SPOT Vision Screeners which are produced by Welch Allyn. An additional grant approved in October by Lion Clubs International Fund (LCIF) has contributed an additional $15,900 Canadian to assist in the purchase of the equipment.
The SPOT screener is able to diagnose six different problems that can be issues for young people as they grow. The Vision Screener checks for:
Hyperopia (farsightedness);
Myopia (nearsightedness);
Astigmatism (blurred vision);
Anisometropia (unequal refractive power);
Gaze (eye alignment measure); and
Anisoconia (unequal pupil size).
Vancouver Island Health Authority (VIHA) makes an effort to screen all children coming into Kindergarten. Children who have passed the vision screening in Kindergarten have an eighteen percent (18%) chance of having further vision problems by the time they are 16. With the SPOT Vision Screener Lions can screen an entire classroom in approximately 15 minutes. This speed means that children stay in class with less interruption to learning.
This screening will follow up and support children whose eyes have changed since their initial screening. In Nanaimo schools children will be screened at Grade 4 and Grade 7. Other school districts may choose similar or other alternatives. Lions will provide the screening as a voluntary service after members receive training on the use of the screeners. This initiative got underway in many areas on the Island in January 2016.
Welch Allyn a supplier of Medical and Health equipment, well known across Canada, are the sole producers of the VS 100 Vision Screener. Welch Allyn has provided workshops on the use of the equipment and has been instrumental in assisting Lion Clubs of Vancouver Island in this project
The Gabriola Lions Club has contributed $1,000 towards this venture to help our youth. We are working with the school district to permit every child to have their eyes screened in late Elementary years before going on to High School.
The Club has developed a partnership to ensure all children have an opportunity to have their eyes screened. Parents will be advised of the outcome of the screening and can choose an optometrist of their choice for final assessment, diagnosis and preparation of glasses. Provincial Medical Coverage will cover the cost of the visit to the Optometrist and some districts and clubs have provision to support families with financial hardship.
The SPOT Vision Screener can also be used to assess and assist other community groups as well, including homeless, seniors, those at risk and members of the general public. With time you will see the SPOT screener as an integral part of the vision health in our community.