Fundraising
The Gabriola Lions Club organizes or takes part in a series of events to raise funds to support the needs of Gabriolans and to contribute to major organizations dedicated to specific causes. Roll up your sleeves, put on a big smile; we have never had so much fun making new friends and giving back to our community, Gabriola Island.
Fundraising Events Throughout the Year
Purina Walk for Dog Guides, held annually, is open to dog owners, their friends, and people who just want to walk with or without dogs to raise funds for the support and training of dog guides to be provided free of charge to people in need of them.
Concert on the Green, always a Thursday in early August, is our major fundraiser.
Lions Pancake Breakfast at the Gabriola Theatre Festival
Christmas Ferry Line-up Donation Collection. Gabriolans and visitors have the opportunity to donate to the annual Christmas hamper program, to enrich the holiday season for the needy.
BC Gaming Commission, a major contributor of funds to the Gabriola Lions Club.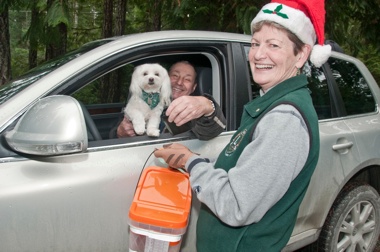 Lion Anne Banford, in charge of the Lions ferry lineup Christmas program, collecting from her husband, Gerry. Proceeds are used to provide Christmas food vouchers to those in need on Gabriola.
2019 Concert-on-the-Green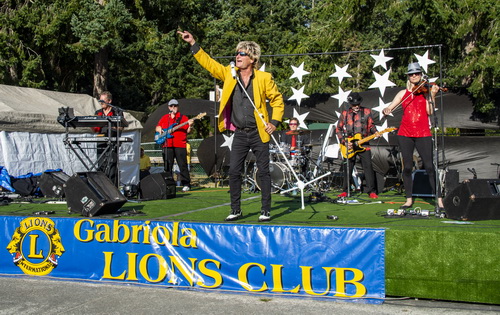 The 23 Annual Concert-on-the-Green was another great success. Held on Thursday, August 8, our opening act was The Vinyl Cafe's Reid Jamieson Band, featuring Reid Jamieson and Carolyn Victoria Mill; the feature presentation was a ROD STEWART tribute by Rod and the Mods, featuruing Brent Stewart. More than 1,100 people attended and over $31,000 raised for our charitable programs on Gabriola!
Congratulations to R.J. Bastedo of Waterdown, ON, winner of our raffle for two Air Canada tickets to any destination they serve in Canada!
See Lion Don Butt's wonderful concert photos HERE.
Photos of past concerts are HERE.
Lions Walk for Dog Guides 2014
Lions, friends and furry friends getting ready to head out on the walk in support of the Lions Dog Guide program. Walkers and their sponsors raised over $1,500 for the Dog Guide program. (Photo: DB))
For more information see: Lions Dog Guide Program
Pancake Breakfast
Gabriola Theatre Festival
The Lions pancake crew is ready to serve. Chef Lion Dixon is giving a sample of his cooking prowess to official sampler Lion Bob. Lions served almost 400 breakfasts over two days and raised $1,700 for our charitable programs. Click here to see a larger version of the photo.(Photo: BK)